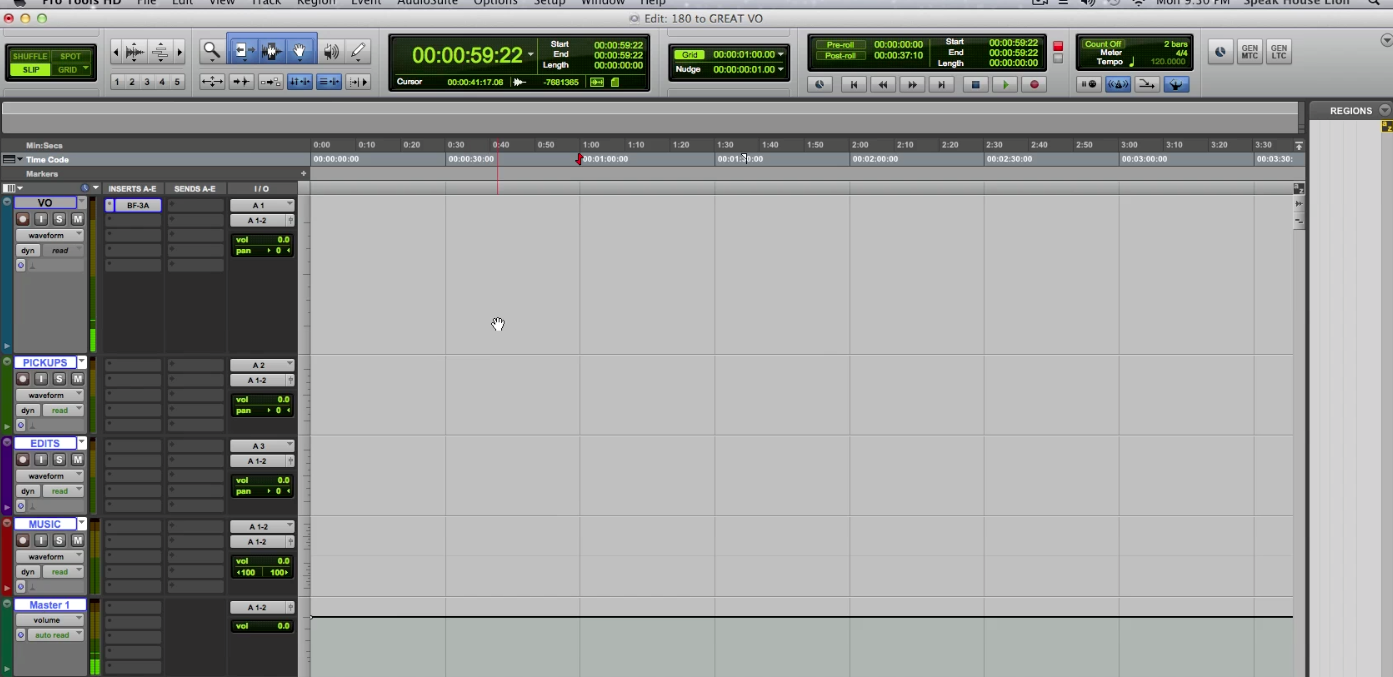 Let's Face It, Life Is Short. Really, IT IS SHORT!
I hate doing the same things over and over again. We can waste so much time just repeating the same tasks, and starting a recording session should not be one of them. You can save time with templates. The first in a series I am calling 180 To Great VO, 180 seconds or three minutes to turn things around and get better voice over recordings, edits, and mixes.
When you are opening up a voice over session, instead of going through the same processes each time, like laying out how many tracks you want or what compressor plugin you use, why not create a template that will open up the same way every time with just the click of a button.
Nearly every digital audio workstation has the capability of creating a template that you only have to do once and every time you open it up, it's all laid out for you.
I like to start with a track that I call VO and even if I only intend to record a single track of voice over, I will open a few extra tracks that will make things easier in the long run.
It really doesn't matter if I don't use them for this session because it gives me a familiarity with a way of working that I have become comfortable with. It will also make for quicker decisions if I do need to edit things in a particular way.
---
Using Templates For Your Sessions is a Great Way to Save Time
If you tend to use compression, EQ, gating or any other plugins, having them in your session and ready to go when the time comes to apply them makes a huge difference to your workflow when you are right in the middle of it.
No longer do you have to stop what you are focused on to search for a particular processor.
If you have direct monitoring on your system, for instance, if you are using an HD version of ProTools, you can have these plugins engaged as you record and get a better feel of how your finished voice work is going to sound.
Good control over your dynamics in your headphones can also boost your confidence and allow you to hear more subtle characteristics of your performance.
If you are unable to monitor the recording program's output without latency, not to worry, those plugins can easily be engaged after recording with your settings already saved, because you saved them when you created the template.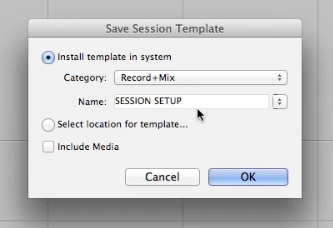 After you have created your session the way you like to see it when you are working, before you do any recording, go into your file menu and then click "save as template". It's that easy!
The program will ask you to name your template, so name it something that will be easy for you to recognize as a blank session template. I like to name mine "Session Setup".
---
Put Your Templates Where You Can Find Them
Make sure you put the template somewhere so you can easily access it, like on the desktop so you can just sit down and double click the template file and be ready to go.
When you open the template file it will ask you to name your new session. This is the session you are using your template to instantly create without repetitive procedures.
Make sure you name it something that corresponds with the session you are working on, for example, your client's name or the name of the script you are recording.
You will also need to designate where to put the session on your hard drive. Don't worry, your session template name will not change and it will always be where you left it, right on the desktop.
We all have too many things to do on a daily basis, repeating the same things every single day is tedious. You can save time with templates and make your workflow that much easier.
Keep an eye out for more 180 To Great VO, 180 seconds or 3 minutes to help you get better voice over recordings, edits and mixes.