Making The Right Choice
There are so many different microphones being made today that it can be very confusing when the time comes to buy one. Let's take a look at the common elements of professional studio recording microphones to help us make the right choice.
Understanding how they work is probably a good place to start in deciding why we might choose one kind over another.
---
The Basics
A microphone is a device that turns one form of energy into another form of energy, technically known as a transducer. In this case, it turns sound waves into electrical energy. It acts much the same way that our ears do when sound waves enter them, the inner ear turns the sound waves into electrical energy and our brain interprets it as hearing.
If you think about how the speakers for your stereo work,  they change electrical energy into sound waves by making the speakers move and push air so that our ears can hear what the translation means.
A microphone works in the exact opposite way that a speaker does.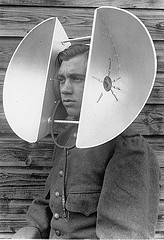 ---
From The Diaphragm
You have probably heard that term, right?
If you are in voice work or you are a singer, you are more than likely familiar with someone asking you to speak or sing "from the diaphragm." We all have a diaphragm, which is a large muscle that helps us move air in and out of our lungs.
Well, did you know that every microphone has a diaphragm, too? And that diaphragm is the key element in converting the energy from sound waves into electrical signals.
No microphone would work without it.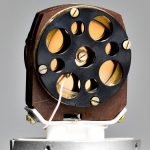 They can be made of paper, plastic or even aluminum, but they all do the same thing. As sound waves reach the diaphragm it will vibrate, just the same way a speaker cone will vibrate or the same way your ear drum will vibrate, and that, is in turn, converted into electrical signals.
But not all microphones are made the same way, in fact, there are very specific characteristic design elements that allow them to excel in different applications.
---
Dynamic Microphones
These mics use a moving coil and magnet behind the diaphragm to capture sound and it can take a lot of level to get the coil moving.
That means that they can handle higher sound pressure levels like guitar and bass amps, screaming vocals, drum kits, and…
hard sell voice overs.
Dynamic mics are used mostly for live performance situations because of their excellent ability to prevent feedback but don't discount them for voice over recording. They will handle much louder signal without clipping than a condenser mic and are generally much more rugged as well.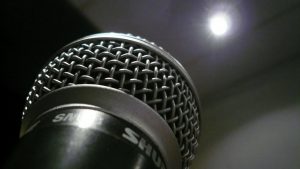 In fact, I used to engineer at a church for their Sunday masses and when the weather allowed and on special holidays the service would be outdoors.
Every week I would set out and assemble all the equipment and when the service was over, tear it all down and store it for the following week.
One time I accidentally left two extra gooseneck dynamic mics, that we would use for the podium, next to the drum set on the stage.
A little way through, someone asked a guest drummer to play one of the songs and in his excitement and rush to get behind the kit, he picked up the two microphones and immediately started playing the drums with them. (That was when I had my first fake heart attack)
After it was all over, I was eager to check the damage. Except for the little foam filters that we were unable to find anywhere, both microphones still worked perfectly!
That would not be possible with the next microphone.
---
Condenser Microphones
Condenser mics are used more in studio work and especially in voice work because they can pickup much more detail and they have a greater output level than dynamic mics. The reason for that is they are electrically charged by an added voltage commonly known as phantom power.
It's kind of like power steering in your car.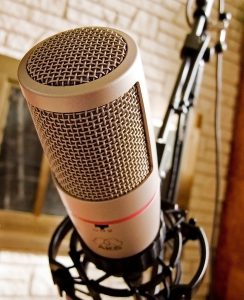 There are actually two plates in these microphones with one of them being very thin and acting as the diaphragm. The phantom power provides a voltage between the plates so that the electrical charge increases and decreases with the movement of the diaphragm.
This results in the diaphragm being more sensitive and makes it more responsive than those of dynamics, so you get more high-end detail and breathiness. But for hard sell voice over it may bring out more detail than you might want if you are pushing your voice, push a little more and it can easily overload.
They are also affected by humidity and temperature, which is something you won't have to worry about with a dynamic microphone.
---
Ribbon Microphones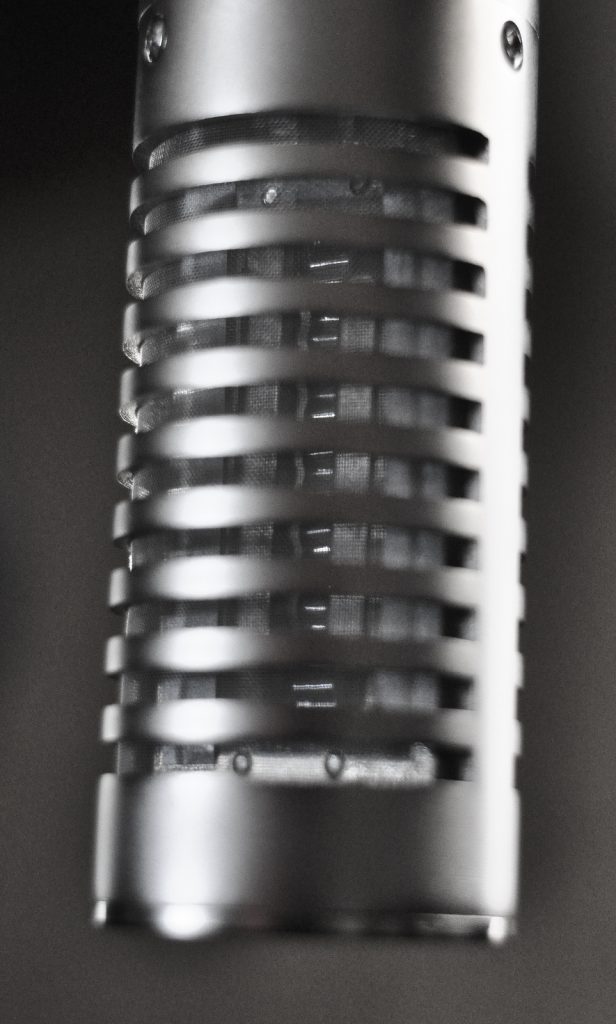 Another type that uses a delicate ribbon of foil for the diaphragm is the ribbon microphone. The ribbon is gently creased to make is springy so it will move easily as well as provide more surface area.
It looks much like what is in the middle of corrugated cardboard. These are extremely delicate and sensitive microphones but they have an excellent high-frequency response that rivals that of most condenser mics.
They will mostly be used for instruments that have high frequencies like horns or for room mics or overhead mics for drums to capture the crispness of cymbals, but they can also be used for voice work with great caution, although it is not recommended.
That would be an expensive microphone to be experimenting with if you don't know what you are doing, one "popping p" and you can easily destroy the ribbon. Never apply phantom power to ribbon microphones either, that's a guarantee that you have just made a crucial and very expensive mistake that you will not be able to correct.
---
There You Have It…
The three categories that every microphone falls into according to the way they are designed to handle sound waves coming from whatever source they are put in front of to capture.
This should make it at least a little bit easier to decide which kind of microphone to use for your particular recording application, but there are still a lot of choices to make when it comes to brand and model, which will very likely depend on your budget.
As mentioned above, it might be worth having more than one microphone for variety as well as for application in terms of choosing a dynamic over a condenser for hard sell voice work.
Once you purchase your new microphone you may or may not have to choose a polar pattern.
As always you can leave a comment below. Tell me which kind of microphone you are using and why you made that chose.